I've actually had some time to start a bunch of series that I've had in my TBR list! Here on my thoughts on the series I've started. Feel free to let me know what you've been reading!
As a HUGE Richelle Mead fan, I was pretty confident that I would like her Age of X series. And surprise, surprise, I did. Well, the first novel, Gameboard of the Gods, anyway. It has all of the usual witty dialog one find in her books and I liked the focus on Norse mythology rather than going back to something supernatural, like vamps and witches. I haven't started book #2, but I'm looking forward to it.
I've been curious about the A Series of Unfortunate Events series for quite some time, but never got around to actually checking it out. Life sure is hard for those Baudelaire kids in The Bad Beginning. It's kind of refreshing how everything goes the worst way possible rather than working out all the time.
I actually REALLY like the 39 Clues series, so I thought I'd give Doublecross, one of the spin-off series, a try. Mission Titanic is the first of 4 books focusing on Amy and Dan's next adventures. It's not as good as the original series, but it's not bad either.
Unraveling completely surprised me! It is an action/mystery story with a big twist at the end. In retrospect, I should have seen the twist since there's a pretty obvious clue, but I like surprises. I'm looking forward to the second and final book in the series. It is set up to be awesome or kind of hokey, so here's to hoping it's a good read!
Not only do I love the cover of Masque of the Red Death, but I really got into the story, as well. I couldn't really decide what was going to happen or who I should trust. And, while dystopian societies aren't anything new, I found the structure and tone of this book to be a change from the other novels I've read in this genre.
I don't know what kept me from reading this series sooner–I LOVE it!!! There's vamps, witches, historical fiction…it has everything. If you haven't read this series yet, get on it! A Discovery of Witches is a must read.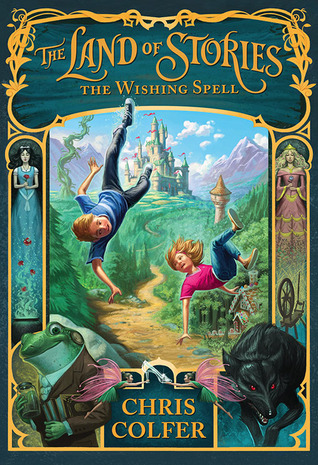 The Wishing Spell, the first book in The Land of Stories series, seemed cute, so I thought I'd give it a try. And I was right, it is cute. The plot was a little basic, but it was cute and fun and kids would like it.
I wasn't sure if I would continue with the Shadowhunter novels. TMI dragged on at the end and I felt like the series was getting a little played. But I read all the Simon short stories and it inspired me to give The Dark Artifices a try–and I'm glad I did. I liked Lady Midnight a lot. It's a little formulaic, but the added focus on the fairy world and the new characters made it fresh enough for me to really enjoy it.
Reading The Gameboard of the Gods got me in the mood for more of Richelle's books, so I started the Georgina Kincaid series. Georgina is a succubus, a paranormal creature that is not normally featured in modern literature. Succubus Blues was good, though I figured out the who-dun-it portion well in advance. It didn't stop me from enjoying the story or looking forward to the rest of the series, however.